The United Airlines App provides a wide range of services to its passengers for their convenience. United Airlines app is one of the most comprehensive airline apps available. United provides a variety of choices for booking, managing, and enjoying travel from their smartphone.
When you first start the app, the primary screen allows you to sign in to your United account, check-in for your flight, view your boarding card, check flight status, book a flight, and view entertainment options from the main screen. You can also scroll through the tabs at the top to see your boarding pass, flight status, bookings, locate a United Club, and check your MileagePlus information.
Learn About United Airlines Application
It's sometimes necessary to double-check all of an application's key features before using it to avoid making mistakes.
Where to Download?
For Android Users –
Google play store
For IOS users –
Apple Store
United Airlines App Sign in
• Install this app on your phone when you've completed the download procedure and wait 5 minutes.
• When you open the United Airlines app, the above image will appear on your phone. If you have a Mileage Plus subscription, log in; otherwise, click "Continue as a Guest" on the right bottom.
• All of your flight and account information, including your boarding pass and upcoming reservations, is automatically loaded into the app once you sign in. You can also check your points balance, mileage, and recent activity.
Note: By calling the United Airlines customer service number, you can easily obtain a Mileage Plus membership.
United Airlines Flight Booking
Do you want to get the greatest deal on a United Airlines flights? Then you should think about its application, which is compatible with all operating systems. This strategy is less stressful and always functional, and it is a similar system when booking United airlines flight tickets via the internet.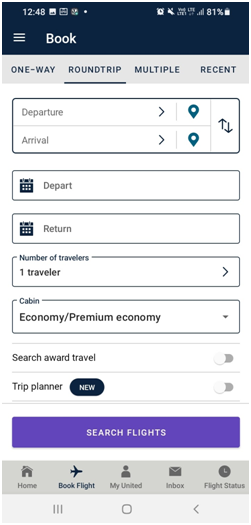 Check Your Flight Status
Do you have any doubts concerning the status of your flight? It's as simple as opening the United Airlines App and selecting "Flight Status" from the bottom toolbar.
Choose "United Airlines" from the list of airlines and enter your flight number from your boarding pass.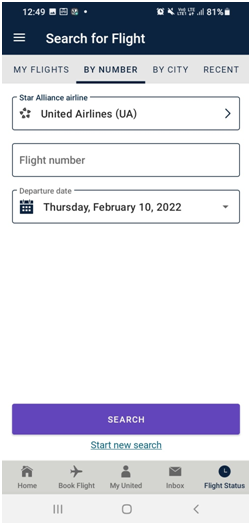 Manage My Booking
Passengers will be able to change and cancel their flight, as well as get a refund, using this feature of the United Airlines application. To use these features, they only need a confirmation number and last name:
• Check the details of your reservation.
• View your seat or make changes to your United Airlines flight booking.
• You must pay service costs if you want to change your flight on the same day.
• You can see frequent flyer information.
• Special service can be requested.
• Request a refund.
• Make a copy of your reservation.
• Inquire about receiving a receipt in the mail.
• Make Changes in United Airlines flight booking or view your seat.
• United Airlines flight cancellation.
Uber Facility
The ability to schedule an Uber from within the app is one of the most popular features. Uber and United have teamed up to deliver Uber's services to United passengers. Before you even get to your ultimate destination, you may plan an Uber to pick you up from the airport and monitor wait times and costs.
The app will estimate the arrival time of an Uber car, the ride cost to the airport in the reservation, and the option of car types when accessed through the menu or a My Reservation card.
Inbox of United App
The United app sends customers specific messages in the event of travel disruption, such as a cancelled flight or significant delay. In these instances, messages are clearly displayed in red on the home screen and on the reservation card, and when accessed, the consumer is taken to a screen with choices to change their travel plans by selecting a new airline.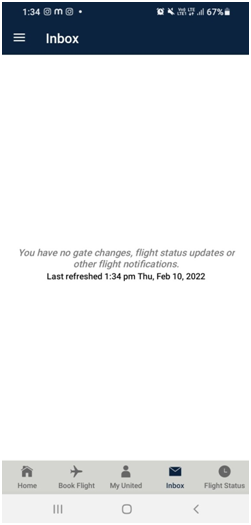 Updated Feature of United Airlines Application
Passport scanning via the United app is a new function that is exclusive to United Airlines. Customers can use the app to complete their check-in by scanning their passports. Using the device's camera as a scanner, this new functionality in the mobile app provides another simple channel for providing passport information within the 24-hour check-in window before departure. In the few months since this functionality was added, international check-in success increased by more than 50%.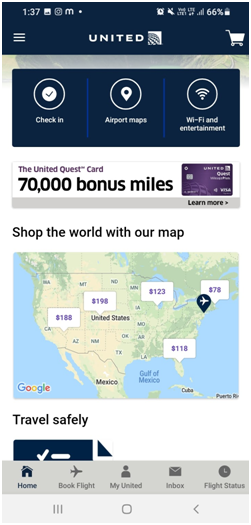 United Airlines App Features:
The United Mobile App is a service provided by United. United is an Android as well as iPhone app that is also compatible with the iPad and Apple Watch. The United app is your go-to travel companion for everything from flight booking to flight status and more.
The following are some of the highlights:
Check-in
• For eligible travellers, check-in for domestic and international flights.
• Change your flight.
• If there are significant flight delays or cancellations, select alternative flight options.
• Award travel, Premium economy, Premium Access, Economy Plus seating, and upgrades are all available for purchase.
Mobile Boarding Pass
• Store your United mobile boarding pass to your Apple Wallet or save it to the United Mobile App for convenient access.
• When connecting from a United aircraft to a flight on one of the partnering airlines, you can save mobile boarding passes for chosen partner airlines.
Flight Booking
• Full-featured, easy flight booking, including the ability to search for various available flights and book MileagePlus award travel using miles.
• Subject to availability, purchase one-time passes for Economy Plus seats, Premier Access, and United Club.
Flight Status
• Check the status of your coming flight or use a flight number or route to look up the status of other United flights.
• View and access upgrade and standby listings.
• View seat maps for flight.
• Find out about departure and arrival times.
• View the current location of the aircraft on your flight.
• Check out the in-flight amenities.
• Get push notifications about flight statuses.
• Track a specific flight and receive automatic updates to your device.
Manage my booking
• Keep track of the reservations you've made.
• Add and see current United reservations
• Change seats.
• You can modify or cancel your reservations.
• If you're a MileagePlus Premier member, you'll be automatically upgraded and receive upgrade information.
• Add reservations directly to your calendar.
MileagePlus
• Enrolling in MileagePlus.
• Access information about your MileagePlus account.
• Take a look at recent statements and actions.
• Check out current, previous, and cancelled flights.
• Sync your Apple wallet with your MileagePlus card.
Other Important Characteristics
• Keep track of your checked luggage's status.
• On select flights, you can stream and view popular movies and TV episodes on your own device.
• Take a look at the interactive airport maps.
• Find out where the UnitedClub membership
• Members of the MileagePlus Chase Card who are eligible can use their one-time passes.
• Arrange for Uber to take you to or from the airport.
• Share your reservations and check-ins on social media, and keep up with our latest tweets.
Issue Spotted: My United Airlines App is not working
Common United Airlines App Issues and How to Fix Them:
How can I fix the United Airlines blank screen/app crash issue?
One of the most prevalent issues with mobile phones and tablets is the black/white screen. When you first open an app, it will usually display a black screen for a few seconds before crashing with or without an error notice. There are a few options for resolving this issue.
• All you have to do is go to your phone's recent applications menu (typically the first left button). Then you close the app that is causing the problem. Restart the app now. It may function normally.
• Restart your iPhone or iPad if necessary.
• Install the application again.
• To resolve the problem, dial a specific phone number.
If the United application is not loading or not working suitably
There are a few circumstances that can lead to a load issue in a mobile app.
• It's possible that the United Airlines app server is down, which is generating a loading problem.
• Your mobile data/wifi connection isn't operating correctly.
• The programme is being used by far too many people at the same time.
Notifications on the United Airline app are not operating properly
• Check whether United Airlines notifications are enabled in Settings->Notifications->United Airlines. Please enable it if it isn't already.
• If you're not getting notification alert noises, double-check that you haven't mistakenly muted the app notification sounds.
The United Airlines app is not updating properly
• Please double-check your wifi/mobile data connection to ensure it is operational. It's possible that it's down, preventing you from updating the United Airlines app.
• Check that your phone has enough storage capacity to download updates. It's possible that you won't be able to update your app because you don't have enough storage space.
How do I get the United app to install?
• Check the connectivity of your wifi/internet connection.
• Please verify the available storage space on your mobile device. The app cannot be installed if your disc space is insufficient.
• Make sure the app you're trying to install is compatible with your iOS version.